Beeston villager uses own 'baseball' speed gun on A1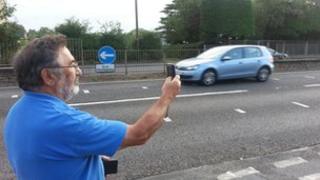 A man who bought a speed monitoring device to clock motorists near his Bedfordshire village home says police need to do more to stop them.
Michael Lacey bought online a US radar device originally designed to record the speed of baseballs.
He said he sometimes records 90% of drivers going faster than the 50 mph limit on the A1 near the village.
Bedfordshire Police said they patrolled the area and took action against speeding drivers.
The speed limit on the A1 is 70 mph, which drops to 50 mph on the approach to Beeston, where there is a speed camera.
Mr Lacey said the problem had been "ongoing" so he took it upon himself to get "evidence" for police.
He said people walking on the 3ft 6ins (1.1 m) wide footpath next to the road were at risk.
'Alarming' speeds
He revealed he had found some drivers travelling more than 30 mph above the limit.
"The speeds I have been recording are quite alarming," he said.
"There are certain times of the day when it's prevalent - the worst is between 17:00 and 19:00 on the northbound carriageway."
During those times, according to his device 90% of drivers he had recorded were travelling between 56 mph and 60 mph with others doing speeds of up to 82 mph, he said.
Mr Lacey said he had told the police - who assured him they were doing "everything within their powers" - but he wants more measures.
"The obvious answer is a speed limit reduction or average speed cameras through the whole section."
Bedfordshire Police said officers understood Mr Lacey's concerns but there was already a speed camera in place, along with clear speed limit signs.
While a device like the one used by Mr Lacey may give a "rough idea" of speed, only "official" cameras could provide an accurate reading which would be admissible in court, a spokesman added.
A spokesman said: "Officers from the Roads Policing Unit also patrol the area regularly and take action against motorists who do not observe the speed restrictions."
It is the Highways Agency's responsibility to address requests for a speed reduction on a major road, he added.
A Highways Agency spokesman said the accident record at the location was "below the average for this type of road" but it would "continue to monitor safety on the A1".