Houghton Regis sex assault: Darren Emmerson detained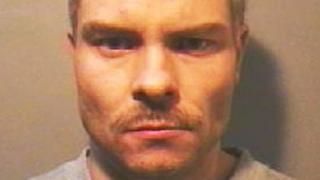 A man detained for sexually assaulting an 82-year-old had a history of "extremely alarming and dangerous behaviour", a court has heard.
Darren Emmerson, 40, forced his way into Winifred Smith's home in Houghton Regis, Beds, in March and subjected her to a "truly horrific attack".
She died nine days later, Luton Crown Court heard.
Emmerson admitted the sex assault and was detained in a secure hospital under Section 37 of the Mental Health Act.
Judge David Farrell QC said it was a matter of "great sadness" that Ms Smith had died after the attack.
But, despite being knocked to the ground in her hallway and sexually assaulted, the ordeal had not caused her death, the court heard.
'Take money'
The judge heard Emmerson, who has Asperger's Syndrome and lived in a residential home in Houghton Regis, told police on his arrest that he had carried out two attacks on elderly women in the 1990s.
Neither matter was pursued due to a lack of evidence.
On 18 March, having made sexually aggressive remarks to a young woman in the street, Emmerson went to St Andrews Close and saw through the window of Ms Smith's bungalow that she was in and watching television, the court heard.
He knocked on the door and barged in, knocking her to the floor, the court heard.
"She shouted at him to go away and take her money," said prosecutor Andrew Copeland.
"He said he was not interested in money and slapped her around the face twice."
The court heard he sexually assaulted her, then asked her: "You don't recognise me, do you?"
'Extremely alarming'
Ms Smith took over an hour to crawl to her phone to call police, who had to smash a pane of glass in her door to reach her.
Emmerson was arrested when a manager at his residential home saw a police appeal about the sex assault and became suspicious about his behaviour that night.
The defendant told police he attacked an 86-year-old woman in 1995 and attempted to rape an 89-year-old woman the following year.
In court on Thursday he also admitted using threatening and insulting words and behaviour towards the young woman.
Judge Farrell told Emmerson he had subjected Ms Smith "to a truly horrific sexual attack".
He said it had to be set against a history of behaviour that had been "extremely alarming and dangerous".
Emmerson was also made the subject of a restriction order, meaning he can be held indefinitely and, if released, would be under stringent licensing provisions.