Rachel Manning case: Jury hears evidence of 2010 sex attack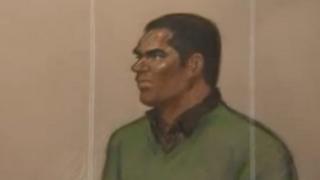 A jury at the trial of a man accused of murdering a teenager almost 13 years ago has heard further details of a sex assault he carried out in 2010.
Shahidul Ahmed denies murdering Rachel Manning, 19, whose body was dumped on a golf course near Milton Keynes in 2000.
Luton Crown Court has already heard his DNA was linked to the case following his arrest for a sex attack in 2010.
On Friday, the jury heard the sex assault victim assumed 41-year-old Mr Ahmed, of Bletchley, was a taxi driver.
The Crown's case is that Mr Ahmed strangled Miss Manning close to a phone box in Milton Keynes early on 10 December 2000, when she was lost after a night out with her boyfriend.
He then dumped her body at Woburn Golf Club and disfigured her face with a car's steering lock, prosecutor Ben Gumpert said.
A DNA trace found on the steering lock was linked to Mr Ahmed when he was arrested for the sex attack in May 2010, the court has heard.
Beckoned into car
His victim, a 19-year-old student, was not in court to give evidence but prosecutor Ben Gumpert read her statement.
She was walking home in Bletchley after a night out when Mr Ahmed pulled alongside her in a people carrier and beckoned her over.
When she said she did not have any money he shrugged his shoulders and invited her in, the court heard.
He groped her, which made her get out of the car. She was walked home by a passerby, who called police, Mr Gumpert said.
Mr Ahmed's DNA was taken on his arrest and in September 2010 he was arrested on suspicion of Miss Manning's murder.
The jury was also told three passengers on a coach returning from a work's Christmas party recalled seeing Miss Manning in Oldbrook.
Michael Bartlett said he remarked to a colleague: "What is a girl that young doing out at this time of night, she could be attacked."
In 2002, Miss Manning's boyfriend Barri White was jailed for her murder and his friend Keith Hyatt imprisoned for perverting the course of justice.
Both had their convictions quashed in 2007, with Mr White acquitted at a retrial in 2008.
The trial continues.