Bedford Hospital appoints consultant to help recruit staff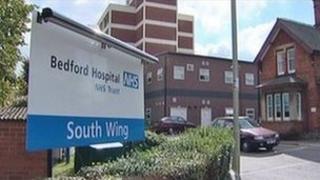 A new paediatric consultant will help recruit staff for Bedford Hospital's children's department, hospital bosses said.
Bedford Hospital NHS Trust suspended children's A & E services, planned surgery and overnight observation last month over staff shortage concerns.
Dr Andy Raffles will now lead work to secure the future of its paediatric unit, the trust said.
It added the appointment showed it was committed to saving those services.
Bedford Hospital NHS Trust suspended the services for under-19s at the end of July.
It followed the withdrawal of junior doctors because of a lack of senior staff to train them.
From 1 August, patients have been transferred to Milton Keynes Hospital or other neighbouring hospitals.
'Reviewing staff'
Dr Raffles, who has 35 years' experience, also works at Queen Elizabeth II and the Lister Hospitals in Hertfordshire.
He joined the department earlier this month and part of his new role is to find more staff.
"We are currently reviewing staffing in the department, with a view to recruiting new consultants and registrars," he said.
"This will help to secure services for the future, as well as attract high-quality trainees with a commitment to education as well as service."
Dr Raffles added that paediatrics at the hospital had been through some "high-profile changes" but "the principle behind them is safety".
"These aren't issues unique to Bedford, but have been experienced in many units across the UK," he said.
He said his vision for the hospital was for "a modern children's service, delivering high quality care".
Hospital medical director, Ed Neale, said he hoped the appointment "reaffirms our commitment to securing the future of paediatric services".
Earlier this week, the trust said decisions on how services will be provided in the future would only be made after public consultation, led by Bedfordshire Clinical Commissioning Group.
Dr Paul Hassan from the group said it was looking forward to involving Dr Raffles in its consultation process.