Ex-soldier Marc McLees jailed for Leighton Buzzard fake gun siege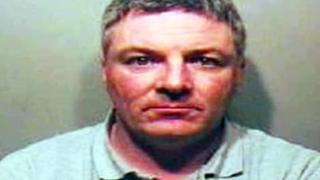 An army veteran whose actions led to a five-hour police siege at his home has been jailed for two years.
Marc McLees, 42, sparked a major alert at his home in Leighton Buzzard, Bedfordshire, on 5 February.
Luton Crown Court heard McLees pleaded guilty to possessing an imitation firearm.
The veteran of Iraq and Afghanistan had been suffering from Post Traumatic Stress Disorder and thought he was in a "war-zone" during the siege.
The court heard that McLees threatened the police with a ball bearing gun from his flat after downing 10 pints of lager on his birthday.
Semtex claim
Prosecutor Deborah Minnett said Jennifer Knowles, his neighbour in flats above a soft furnishing store in Bridge Street, heard "moaning and sobbing" as if someone had died, at 16:00 GMT.
Twenty minutes later, McLees appeared at her front door. He was red in the face, his eyes were bloodshot and he was under the influence of alcohol. He told her he was a bad person and that she and her 16-month old child should "get out".
Armed police were called and a siege began. After two-and-a-half hours, the mother and child were able to get safely from the building, but McLees remained inside.
McLees, who served with the Sutherland Regiment, told trained negotiators he had rigged the doors and windows with Semtex explosive.
However, five hours after the siege began, he gave himself up after speaking to his sister on the telephone.
When questioned, McLees apologised and expressed his remorse. There were no explosives in his flat.
The court heard he denied a charge of communicating false information about a bomb hoax, which was accepted by the prosecution.
Will Noble, defending, said: "It is a tragic case. He acted completely out of character and had a mental breakdown.
"February 5th was his birthday, but he is unable to say what triggered his behaviour. He describes an out of body experience in which he believed he was back in a war zone."
Jailing him, Judge Richard Foster said: "You had an exemplary service record in the army. It is tragic that you are in prison."