Bedford Hospital children's services 'unlikely' to be fully restored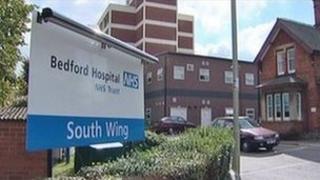 Children's services at Bedford Hospital may not be fully restored, the medical director at a hospital taking its transferred patients has said.
Children's A & E services, planned surgery and overnight observation were suspended at Bedford last month.
Martin Weatherill, from Milton Keynes Hospital, said it was "unlikely in-patient services" would return there.
Bedford Hospital said it was "working hard to bring back paediatric services in a safe and sustainable way".
Bedford Hospital NHS Trust suspended the services for under-19s from the end of July and said staff shortages had led to the move.
From 1 August, patients have been transferred to Milton Keynes Hospital - which has said it is seeing about 30% more patients than it would expect for the time of year - or another neighbouring hospital.
'Being discussed'
Mr Weatherill said exactly what services would return to Bedford was still being discussed.
"The plan is that we will have a paediatric assessment unit at Bedford and sufficient staffing to support not only that but also the accident and emergency department," he said.
Long term, it "depends what you mean by a paediatric service", he added.
"In-patients has gone. It is unlikely in-patient services will reopen there again."
He suggested this long-term plan was to do with the South East Midlands Healthier Together project which reviewed the way healthcare services are provided in five hospitals - Bedford, Luton and Dunstable, Milton Keynes, Kettering General and Northampton General.
"[This] gave recommendations for the type of service that should be available for paediatrics and others across the area of the five hospitals," he said.
A Bedford Hospital spokesperson said the current changes to paediatric services were "interim" and it was working with commissioners to look at how they should be delivered in the long term.
"Decisions on how services will be provided in the future will only be made after public consultation - a process that will be designed and led by Bedfordshire Clinical Commissioning Group," a statement said.
This process is due to begin in the autumn.