New Watford tube station to be called Vicarage Road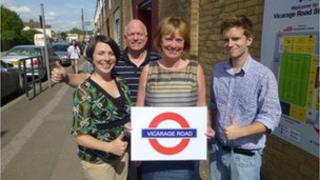 A new tube station for Watford's football stadium and hospital is to be named Vicarage Road, following a local campaign.
Transport for London wanted the new station, one of two in the Croxley Rail Link plan, to be called West Watford.
But a petition signed by more than 2,000 argued the name Vicarage Road had recognition beyond the town because of its links with Watford Football Club.
A TfL spokesman said local preferences were an important part of the decision.
The £118m extension to the Metropolitan Line, which includes the two new stations, was given the go-ahead in July.
The scheme will see the underground line extended to Watford Junction via Watford High Street.
After Croxley, the current Watford station will be moved and renamed, with a new station built at Vicarage Road.
'Nationally known'
Watford's elected mayor Dorothy Thornhill had said the name West Watford covered a wide area, while Vicarage Road was an area within its own right.
She set up an online petition arguing the name was also well-known locally and nationally as the home of the football club.
A TfL spokesman said it was important to ensure station names "reflect the preferences of the local community" and "following consideration" proposed the station be named Watford Vicarage Road.
It wants to call the relocated Watford station, Cassiobridge.
David Hughes, from TfL, said naming stations involved making sure they were not confused with other locations and "geographically reflected the area served".
"We think these proposed names reflect the right balance between all the issues and various community opinions that have been expressed," he said.
Ms Thornhill said to call the Vicarage Road station anything else would "just be bonkers".
"This is the right name for a station in this part of town, and I for one will be so proud to see the name Vicarage Road on the tube map," she said.
Construction will begin next year, with the re-routed line due to open in 2016.