Bedfordshire care worker is guilty of neglect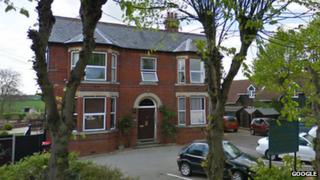 A care worker has been found guilty of neglect after she left an 86-year-old man on the floor for an hour calling "help me" at a home in Bedfordshire.
Jackie Ndoro's behaviour towards Albert Riches at The Limes in Henlow on 22 June 2011 was captured on CCTV secretly installed by the home's manager.
Ndoro, 38, of Bodmin Road, Luton was found guilty at Luton Crown Court of neglect of a person who lacks capacity.
She will be sentenced on 6 September. The judge told her to expect jail.
Ndoro's colleague that night did not answer police bail and is wanted.
'Smell of urine'
The Limes, which houses 23 residents, is owned by Joan Wilkinson and managed by her son Kevin.
Ndoro and her colleague were first employed as agency staff and then were taken on full-time, covering the night shift.
During the trial, prosecutor Isabel Delamere said Mr Wilkinson noticed that after the night shifts "there was a smell of urine and seemed to be a lack of bedding".
He decided to install a CCTV camera in the lounge to "keep tabs" on what was going on.
The court was told this showed Mr Riches, who had Alzheimer's and was prone to falls after a series of mini-strokes, collapsing on the floor.
Ndoro's colleague was seen tapping Mr Riches's leg before sweeping her broom around him.
The 86-year-old, who has since died, was heard to say "help me" and groan as he lay there for an hour.
Miss Delamere said the two women eventually pulled him up by the scruff of the neck and "dumped him on a wheelchair" because they "couldn't be bothered" to use a hoist to lift him.
'Sleeping beneath blanket'
Ndoro told the court she "made an assumption that he put himself on the floor and I should not have made that assumption".
The CCTV also showed Ndoro sleeping with her feet up, beneath a blanket, between 01:00 and 05:00 BST.
She should have carried out two-hourly checks on the residents, several of whom have dementia.
Ndoro said: "I was supposed to do my checks at four and I did not go, I accept that."
She also admitted to the court that her records of the night shift did not mention Mr Riches's fall or her neglect of the 04:00 BST check.
Both women were dismissed the following day for gross misconduct and the local authority and police were informed.