London Luton Airport contract to be sold in £433m deal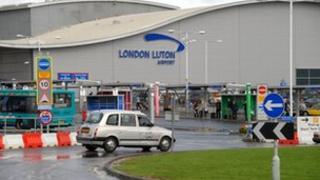 The contract to run Luton Airport is to change hands in a deal worth £433m, the Spanish holders have announced.
Abertis said it had agreed to sell to a consortium led by Spanish airport operator Aena, which already has a 10% stake in the operation.
Aena chairman Jose Manuel Vargas said it wanted to "substantially build up Luton in consultation with all its stakeholders".
Luton Council, which owns the land and infrastructure, has welcomed the deal.
Luton Airport, the UK's fifth biggest in terms of passenger numbers, handles about 11.5 million passengers a year and in January 2012 announced expansion plans that would allow it to handle 18 million passengers a year.
The management of the airport has been controlled by Abertis since 2005, when it bought 90% of the British operator TBI.
London Luton Airport Limited (LLAL), a public airport company, owns the airport infrastructure and all the shares belong to Luton Borough Council.
The council said: "LLAL has the goal of ensuring the airport continues to bring jobs and prosperity, as well as significant benefit through its Community Funding Programme.
"We welcome the agreement. A thriving London Luton Airport is at the heart of our vision and that of the local economy."
Airports for sale
Under the new agreement, the airport's operation will be sold to a consortium owned 51% by Aena, with AXA Private Equity holding the remaining 49% stake.
The sale is subject to clearance by competition authorities, contracting authority Luton Borough Council and the Spanish Board of Ministers.
In a statement, Abertis said the deal forms part of its strategy to "continually revise its portfolio in order to optimise the company's asset base".
Last week, it announced an agreement to sell Belfast International Airport and Sweden's Stockholm Skavsta Airport to US operator ADC & HAS Airports Worldwide for £247m.
It sold Cardiff Airport to the Welsh assembly or £53m last March.
The Luton deal means that Abertis's remaining airport business is limited to a stake in Grupo Aeropuertuario del Pacifico in Mexico and Montego Bay airport in Jamaica, both of which are for sale.