Shefford St Francis orphanage abuse victims contact lawyer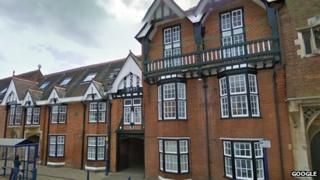 A lawyer representing ex-residents of a Catholic orphanage - which is the centre of a police inquiry into abuse allegations - has already been contacted by 12 victims.
Tracey Emmott is representing a group of former residents of St Francis Boys Home in Shefford, Bedfordshire.
They allege they were physically or sexually abused at the home in the 1950s and 1960s.
The church regrets any possible harm but says the claims are not proven.
Ms Emmott, a specialist in cases of childhood sexual abuse, said that since new concerns about the abuse became public in May this year, she has been contacted by 12 ex-residents.
'Apology needed'
The BBC has talked to a number of former residents of the home, which closed in 1974.
Most of the allegations date to the late 1950s and early 1960s and are against Father John Ryan, who died in 2008, but one claim relates to another also deceased priest, and dates back to 1952.
Bedfordshire Police have started an investigation into the cases.
Ms Emmott, of Bedford-based Emmott Snell Solicitors, said she was looking at a "potential civil claim" against the Catholic church.
"The ex-residents are not motivated by money, they just want their story to be told. They want an apology," she said.
"They have painted a picture of an horrendous place and there are some very serious allegations."
The BBC has so far talked to three people who say they were sexually abused by Fr Ryan.
'Repeatedly abused'
Earlier this month ex-resident Tony Walsh, who was born in Bury St Edmunds, Suffolk, waived his right to anonymity to appeal to other victims to contact the police.
Mr Walsh said the priest sexually abused him "lots of times" and believed it was important the physical and sexual abuse "is made really public".
Another man, now in his 50s and who cannot named for legal reasons, told the BBC in May: "Fr Ryan abused me. He used to get me up to his office. Then he turned round and said 'If you let me fondle you, I won't hit you'."
Another former resident of the home, who now lives in Woolwich, south London, said Fr Ryan touched him in a sexual manner and sexually abused him repeatedly, as well as administering beatings.
The BBC has also learnt of numerous cases of alleged physical abuse at the home.
A spokesman for the Northampton Diocese of the Catholic Church, which ran the home, said it "deeply regrets" any hurt caused, but stressed the "claims are not proven".