Paul Gascoigne charged with assault and disorder offences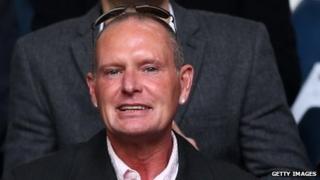 Ex-England footballer Paul Gascoigne has been charged with being drunk and disorderly at a railway station.
The 46-year-old, who left rehab in the USA earlier this year, was arrested following an alleged incident this month in Stevenage, Hertfordshire.
Mr Gascoigne, of Gateshead, was also charged with two counts of common assault by British Transport Police.
The former Newcastle, Tottenham and Rangers player will appear before magistrates in Stevenage on 5 August.
Mr Gascoigne was arrested by police at the station at about 22:30 BST on 4 July. He was was later released on police bail.
Baljit Ubhey, chief crown prosecutor for the Thames and Chiltern area, said: "Following a British Transport Police (BTP) investigation, a file was forwarded to us to consider whether any criminal charges could be brought against the 46-year-old man.
"Having carefully reviewed all of the available evidence, Thames and Chiltern CPS authorised officers from BTP to charge the man with common assault and being drunk and disorderly."