Bedford Hospital: Thousands sign petition against service suspension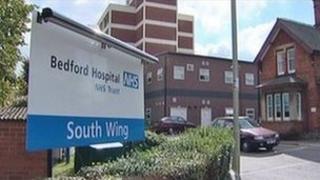 Calls for an inquiry into the suspension of A&E at Bedford Hospital have been made by an MP.
Richard Fuller said there were "some very serious questions to be answered".
More than 5,000 people in two days have signed a petition opposing the closure of some services at Bedford Hospital.
Some children's services, including accident and emergency, will be suspended at the end of July, it was announced on Monday.
Ray McKeating, from Kempston, started the petition, calling on MP Richard Fuller to ensure full services at the hospital's Riverbank Ward are restored.
Bedford Hospital NHS Trust said it was suspending A&E services, planned surgery and overnight observation after A&E treatment for children and people under 19 as an interim measure.
It follows the withdrawal of junior doctors because of a shortage of senior staff to train them.
Milton Keynes Hospital will take on some of the cases.
The changes were brought about by a decision by Health Education East of England and the General Medical Council.
'Shout loud enough'
Mr McKeating, from Kempston, who started the Riverbank Foundation charity, said he felt "distraught and betrayed" that key services were being moved.
His 19-month-old son Joshua has a rare chromosome disorder and his care is co-ordinated at the hospital.
He said his epetition at the website change.org asks Mr Fuller to ensure an inquiry takes place.
"We also want to find out what needs to happen now [for services to return] and get goals agreed and in place," he said.
"This is a simple matter of supervision, not about the care of the children, and supervision is the easiest fix in business.
"If we shout loud enough and long enough we could turn this around."
Mr Fuller said: "It seems to me that over the years the hospital tried to apply sticking plaster solutions when some more serious attention was needed.
"There needs to be an independent inquiry where the public can have confidence."