Ian John McLoughlin arrested over robbery murder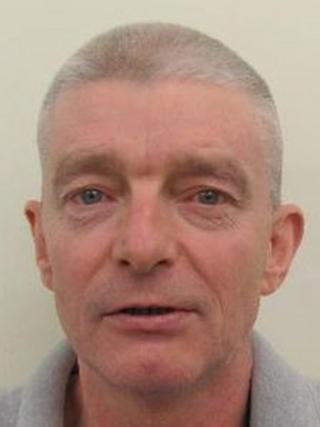 Police have arrested a man they had wanted to speak to in connection with a knife murder in Hertfordshire.
Ian John McLoughlin, 55, was arrested at 01:00 BST in London on suspicion of robbery and murder.
Police had appealed for information on his whereabouts after Graham Buck, 66, died intervening in a suspected robbery in a Hertfordshire village on Saturday and another man was hurt.
McLoughlin was on day release from prison, serving a sentence for murder.
The man hurt in the suspected robbery, two doors from Mr Buck's home, in which thousands of pounds were stolen, has been released from hospital and is currently in what police described as a "place of safety".
McLoughlin is being questioned at a police station in Hertfordshire.
Three more people have been arrested as part of the inquiry, police said.
They are a 54-year-old man from Tottenham, a 45-year-old woman from Edmonton and a 50-year-old man from Hackney.
All three are being held, along with McLoughlin, at Hatfield Police Station where they are being questioned.