'No quick fix' for Luton sex trade problem, says charity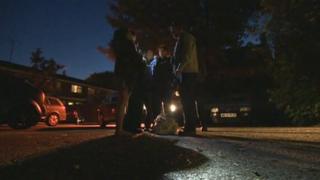 There is "no quick fix" for Luton's prostitution problem, a drug support charity is warning.
A five-year strategy for the High Town area from the police includes more patrols to target kerb crawlers, and anti-social behaviour measures.
The Iceni Project, which helped in the wake of the 2006 murders of five prostitutes in Ipswich, said sex workers' needs must not be ignored.
Director Brian Tobin said agencies had to be "in it for the long haul".
The latest action in Luton is a joint project between the police and Luton Borough Council, who have invested £50,000 into tackling the problem.
The council has issued a dispersal order to force those suspected of anti-social behaviour to leave the area.
Other measures include fitting doors to secure bin store areas, which had been used by sex workers in the past, and car park barriers have been installed.
Zero tolerance
Following the Ipswich murders, agencies adopted a zero tolerance approach for both the people who forced the women onto the streets and those who used their services.
According to Suffolk Police, research it commissioned from the University of East Anglia showed there is now no prostitution on the county's streets.
Mr Tobin said there had been "a concerted effort" by a number of organisations to help the women in the sex trade.
He said there was a "myriad" of problems which they worked on for over two years.
"Housing was crucial because most of them lived in inadequate housing or with boyfriends who weren't particularly helpful in them trying to turn their lives around.
"We had to make sure they had somewhere else to live if they were to start working on the drug addiction.
"If you truly want to eliminate street prostitution in Luton it can be done but you have got to be in it for the long haul, there is no short term fix."
Chief superintendent Mark Turner said Bedfordshire Police had been working closely with colleagues in Ipswich.
"We will continue to evaluate all of the best practice from areas across the country, such as Suffolk, to ensure our strategy is fit to tackle the Luton issues," he said.