Bedford Hospital: Trainee doctors withdrawn over 'concerns'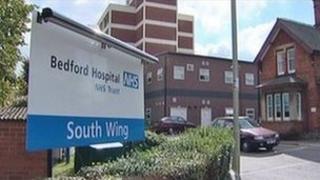 Junior doctor training has been stopped at a major hospital in Bedfordshire and an MP has called for an inquiry.
Concerns were expressed in April that Bedford Hospital NHS Trust had too few consultants for paediatric and maternity cover while instructing medical trainees.
The trust said it would recruit staff but Health Education East of England stepped in and withdrew its trainees.
Bedford MP Richard Fuller called for an inquiry into what had happened.
The Conservative said he wanted to know why trainee doctors were left in this situation.
"It is right to ask why the junior doctors' concerns about supervision were not addressed more quickly," he said.
"Or is it a case of one of two senior doctors not doing what the trainees expected of them?"
'Inadequate levels'
He wants an inquiry to answer these and other questions about the hospital's performance.
Dr Barry Monk, who had campaigned to keep the hospital open when it was under threat two years ago, said it was an extraordinary step for a General Medical Council department to take out junior doctors while they were being trained.
Bedford Hospital NHS Trust said it was working with partners across the region to decide how the local health economy would safely manage the continuing delivery of children's services.
It would announce changes to how some of its children's services are delivered as soon as possible.
In a statement, it said: "This follows a decision by Health Education East of England, the body responsible for doctors in training and the General Medical Council, to temporarily withdraw the most junior medical trainees from Bedford Hospital's paediatric department.
"This decision was taken after trainee doctors expressed concerns about inadequate levels of senior clinical supervision.
"Without these junior doctors, who form a vital part of the medical workforce, the trust cannot safely provide all paediatric services."