Boyfriend of Amelia Arnold 'confessed' murder to uncle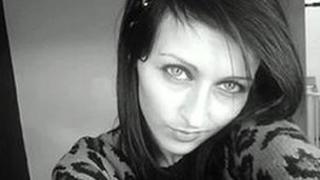 The boyfriend of a Hertfordshire woman told his uncle he had murdered her, a court has been told.
Jack Wall, 22, of Hadrian's Walk, Stevenage, has denied the murder of Amelia Arnold, 19, on 8 November, at their home, but admits manslaughter.
Ms Arnold's body was found in Hatfield, three days later.
Mr Wall's uncle, Joseph Potter, told a jury at Blackfriars Crown Court, the defendant had said to him: "I've murdered her uncle Joe."
Potter, 42, from Bletchley, has previously pleaded guilty to assisting an offender and is currently in custody.
Earlier, the court was told Ms Arnold died from "a severe head injury" inflicted by what the prosecution say was probably a dumbbell bar.
Pathologist Dr Nathaniel Cary said she had received up to 10 blows to the head.
'Topped her'
Giving evidence on Tuesday, Potter told the court, he was asked by his sister, Mr Wall's mother, to help Jack "move some carpet".
But on arrival at his sister's house she told him: "Jack's done Amelia in .... he's topped her."
Potter then went to Hadrian's Walk, where Mr Wall told him he had killed Ms Arnold in the bedroom.
He said Mr Wall also revealed he had pushed the teenager over, then, when she threatened to ring the police, he repeatedly hit her on the head with a bar.
The uncle told the court he and Mr Wall took various items from the home, including a rolled up carpet and a black bag which Potter said "could only have come from the cupboard under the stairs".
He said he asked Mr Wall what was in it and he just shrugged.
Potter said he did not not know if it was Ms Arnold's body.
The court heard they drove to Hatfield, parked near woodland where Mr Wall took black bags out of the van, while Potter remained inside.
The trial continues.