The £5.8m refurbished Higgins Bedford opens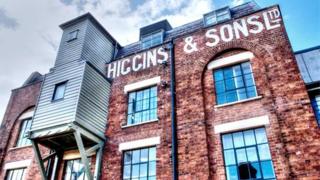 A refurbished Bedfordshire art gallery has opened after a two-year transformation costing £5.8m.
The Higgins Bedford unites the former Cecil Higgins Art Gallery with the Bedford Museum and Bedford Gallery.
The Castle Close site now combines collections of fine and decorative arts with those of social history, archaeology and natural history.
The opening was marked by a series of events starting at dawn and lasting 17 hours on the longest day of the year.
Bedford mayor Dave Hodgson said: "The redeveloped Higgins Bedford belongs to us all, and we [couldn't] wait to throw the doors open to this fantastic, free cultural attraction for all ages."
Collections housed there include work by artists including Picasso, Turner, Constable, Cotman and Blake and designers William Burges and Edward Bawden.
The larger venue has more displays, learning and events programmes and stories about the people and places which shaped Bedford story from prehistory to the present.
Family home
The Higgins Bedford is located in the old Castle Brewery buildings and adjoining Victorian home, both built by Charles Higgins in the mid-19th Century.
His grandson and heir, Cecil Higgins, used his inheritance to build a collection of arts which he could leave "for the benefit, interest and education of the inhabitants of, and visitors to Bedford".
He sold the brewery to Wells & Winch Ltd in 1928 to focus on his ambition and the Cecil Higgins Art Gallery opened in 1949 in his former family home.
Bedford Museum moved into the old brewery in 1981.
Funding for the redevelopment project came from Bedford Borough Council, which provided £3.2m, and a grant of £959,000 from the Heritage Lottery Fund, plus other contributions.