Vet Munhuwepasi Chikosi struck off for leaving dog in pain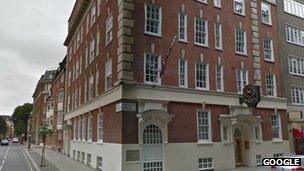 A vet has been struck off the register for causing "unnecessary" pain to a dog which had been run over at a farm.
Munhuwepasi Chikosi was working as an emergency vet in Barton-le-Clay, Bedfordshire in 2011 when the dog owner called to request it be put down.
A Royal College of Veterinary Surgeons disciplinary committee said Mr Chikosi wrongly suggested moving the labrador and did not advise on pain alleviation.
Mr Chikosi, who now lives in Zimbabwe, did not attend the hearing in London.
The committee said Mr Chikosi should have left the practice an hour earlier but he had previously said he did not want to leave the Vets Now building without veterinary cover and left as soon as colleagues arrived.
It said Mr Chikosi had asked the owner, who lived about 10 minutes' drive away in Flitton, to bring the dog, named Mitzi, to the practice.
But he "did not make the welfare of the dog his priority" when he spoke with the dog's owner at 20:34 BST on 9 September, the committee said.
A second call, at 20:51, revealed the dog had "uncharacteristically" bitten the owner's son.
"He made no enquiries as to the condition of Mitzi to determine whether the dog was in a fit condition to be moved," the committee said.
"He offered no advice... as to how Mitzi's condition could be alleviated whilst waiting for the home visit.
"His advice that the dog should be moved on a blanket was completely wrong, as the dog may have had an injured back."
A veterinary nurse who was at the practice said it was a "very quiet night". Records showed there were only three animals at the hospital, none of which was in a critical condition.
"As a result of Mr Chikosi's failure to attend the farm promptly, Mitzi endured unnecessary pain and suffering for at least an hour," the committee said following a two-day hearing which ended on Tuesday.
"The decision of the committee is that Mr Chikosi's name should be removed from the register."
Related Internet Links
The BBC is not responsible for the content of external sites.