Stevenage Surgicentre: Hospital licence to be suspended says MP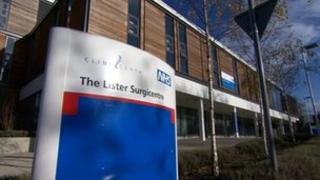 A privately-run NHS hospital has been told its licence is to be suspended after three patients died following routine surgery, an MP says.
Stevenage Conservative MP Stephen McPartland said the Care Quality Commission (CQC) issued a suspension notice for the Surgicentre on 16 May.
The CQC investigated three deaths at the Stevenage unit, in Hertfordshire.
A spokesperson for the Surgicentre said services would continue as normal "for the foreseeable future".
Mr McPartland wants the independent Surgicentre based at the Lister Hospital to be returned to NHS control.
He said a suspension notice was issued by the CQC to the Surgicentre which is run by a subsidiary of Carillion called Clinicenta.
The CQC said it would not comment "for legal reasons".
'Never satisfactory'
Carillion have not said whether they have appealed but issued a statement saying: "We have no reason to believe that we will not be continuing to provide services for patients at Clinicenta for the foreseeable future.
"We can assure the local community that all of our staff at Clinicenta remain committed to delivering the very highest levels of care for patients and that we are working hard to meet the CQC's requirements."
The Surgicentre provides routine surgery in areas such as ear, nose and throat, trauma, orthopaedics, gynaecology and ophthalmology.
NHS patients are referred to the Surgicentre at Stevenage.
Three people undergoing routine surgery for joint conditions have died unexpectedly sparking investigations by Hertfordshire NHS.
Mr McPartland said: "I have been campaigning hard on behalf of local people to improve the level of service available at the Clinicenta/Carillion-owned Surgicentre ever since they opened their doors almost 18 months ago.
"The service has never reached a satisfactory standard despite the best efforts of the NHS staff.
"I have made it clear that Clinicenta/Carillion's licence should be suspended and the facility handed to the local hospital to manage.
"The deadline for appeal against the suspension was Thursday 13 June," he said.