Care workers 'were caught asleep' at Buckinghamshire care home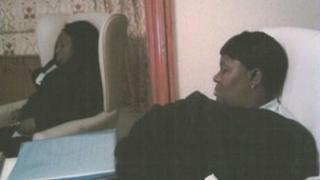 Two workers at a care home asked for forgiveness after being caught sleeping on a night shift, a court has heard.
They were found asleep by managers at the Westlands Home in Olney, Buckinghamshire, jurors were told.
Titilayo Ajala, 56, of Penryn Avenue in Fishermead, Milton Keynes, and Henretta Offae, 41, of St Chad's Road in Derby, deny 19 charges of ill treatment or neglect of a person who lacks capacity.
Each charge relates to one resident at the home, Amersham Crown Court heard.
The court was told the two workers were found asleep in armchairs in front of the TV in the early hours of 18 August 2011 by two of the managers at the home, which specialises in looking after people with dementia.
'Some alarms disconnected'
Giving evidence, the team manager Barbara May said she and care home manager Salina Ballard went into the quiet room at about 02:40 BST and found Ms Ajala and Ms Offae asleep.
Ms May said the personal alarms had been disconnected in "quite a few" of the residents' rooms.
The two managers let the pair sleep and Ms Ballard took of a photograph of the pair on her phone, which was shown to the jury.
Ms May said the pair woke when Ms Ballard said: "Good morning, ladies."
Ms May told the court Ms Ajala said: "Oh my god Salina what are you doing here?"
The managers reminded them they were not allowed to sleep during their night shifts, the court heard.
She told jurors one of them could have rested - but not slept - on their own but they could not both sleep at the same time.
Ms May said it amounted to gross misconduct and they were dismissed.
She said Ms Ajala then said: "Forgive me, please forgive me... please give me another chance," and Ms Offae said: "We haven't got a leg to stand on... what we did is inexcusable."
Ms May told the court she then took over the rest of the shift and checked on the residents - most of whom she said needed repositioning every one or two hours.
She said some residents had double padded incontinence pads on and "some were very wet ".
The trial continues.