Luton Fountains Road shooting: Fourth man arrested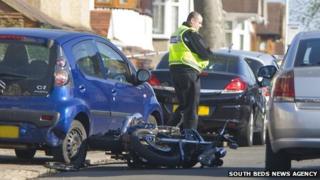 A fourth man has been arrested in connection with a drive-by shooting in Luton.
A man on a motorbike fired two shots at a BMW in Fountains Road just hours after a peace rally on 5 May, but the driver was unharmed.
Police said a man, 23, was arrested on suspicion of conspiracy to murder on Sunday using information gained from a firearms raid earlier this month.
Another 23-year-old man from the town has been charged with attempted murder.
Two other men, aged 21 and 22, who were previously arrested on conspiracy to murder, have been bailed.
Bedfordshire Police said the BMW driver chased the motorcyclist after he was shot at.
The motorcyclist, in his haste to get away, collided with two other cars and came off his bike at nearby Culverhouse Road, the force added.
There have been 10 shootings in the town this year. The latest arrest takes the total for gun-related incidents to 37 since March.