High Wycombe 'arson attack': Four men arrested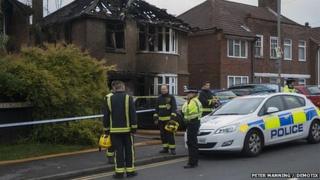 Four men have been arrested after a house in Buckinghamshire partially collapsed in a suspected arson attack.
A mother and baby were taken to hospital after inhaling smoke from the blaze in Whitelands Road, High Wycombe.
The men, aged 19 to 24, were arrested on suspicion of causing arson with intent to endanger life.
More than 60 firefighters tackled the fire, which started just before 02:00 BST. Police said it was "fortunate" nine people escaped the flames.
The fire spread to a next-door house made up of four flats. Both buildings were severely damaged and a number of cars were also affected.
Supt Gilbert Houalla, of Thames Valley Police, said: "This is a very serious offence and it is very fortunate the nine people managed to leave the house before any fatality.
"At this stage, we believe that the house was deliberately set on fire which caused the car to catch alight."
Greg Smith, of Buckinghamshire Fire and Rescue, said crews had faced "difficult conditions".
The blaze was under control by 03:30 BST.
Mr Houalla said it was not yet possible to say if the fire was linked to arson attacks in the Castlefield area in 2009 and 2011.