Hemel Hempstead man gets tattoo of wife on his bald patch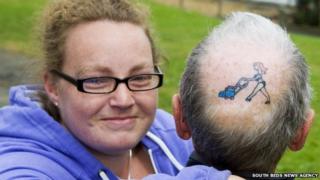 A 68-year-old Hertfordshire man has had his bald patch tattooed with a cartoon of his 28-year-old wife.
Bob Baker, of Counters End in Hemel Hempstead, was given the £60 tattoo as a Father's Day gift from his daughters Lorraine Biswell, 38, and Tracy Khan, 44.
The picture shows Kelly in a bikini and high heels pushing a lawnmower.
Mr Baker said: "75% of people who have seen it say it's wicked and come up and shake my hand."
Mr Baker said it was his 12th tattoo and he already had the word "Kelly" tattooed on his neck.
The couple, who have been together for nine years, got married in 2010.
Mr Baker hinted he would get more tattoos.
"You wait - I am going to have flowerpots next going round the garden," he said.