Peter Williams inquest: Council 'not to blame' for engineer's death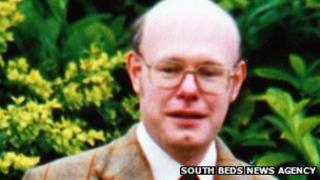 A council was not responsible for the death of a man who jumped in front of a train on the day he was to be evicted from his home, a coroner has ruled.
Peter Williams, 63, had been pursued for tax arrears by Central Bedfordshire Council since the mid-1990s.
Dunstable Coroner Martin Oldham said the council had lawfully pursued Mr Williams' £70,000 debt.
But he said the process of it rising to that level from £1,350 "may strike the man in the street as remarkable".
The engineer, who lived in a four-bedroom home on Jubilee Lane, Langford, died at Biggleswade on 8 February 2012.
Delivering his verdict, Mr Oldham said Mr Williams took his own life while the balance of his mind was disturbed.
'Murdered me'
Earlier the court heard that on the day before Mr Williams' death, he left a letter for a bailiff, stating: "By the time you read this I will be deceased."
In it he blamed the council, adding it was its "arrogance and lack of humanity which had triggered this whole dreadful episode".
It continued: "I can no longer stand the mental turmoil after 15 years. I've had enough of being treated like a stupid second class citizen.
"The council have no humanity and won't listen - perhaps they will now. Please report this to the police because they have murdered me."
The council stated at the five-day inquest that it "spent years trying to help Mr Williams" and offered him help claiming benefits and the single person's rebate, but he had not completed the forms.
Afterwards, Mr Williams' sister Linda Godfrey said: "I think it is fundamentally wrong that a council can take such action that leads to the eviction of someone over such a small debt.
"There will be others that end up taking their lives and that is something that causes me great sadness."