Bilderberg Conference: Watford Mayor's concern over policing costs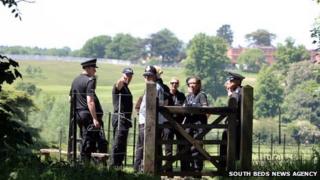 The cost of policing the annual Bilderberg Conference at a Hertfordshire hotel has been attacked by Watford's mayor.
Political and financial figures from North America and Europe are meeting at The Grove, in the town, to discuss "issues facing the world today".
Security is high as hundreds of protesters are expected outside.
Dorothy Thornhill said it was "outrageous" local taxpayers were paying for the police operation.
The 61st conference of politicians, bankers, academics and industrialists is meeting to discuss what their website describes as "an informal, off the record discussion about the issues facing the world today".
'Influence policy'
Agenda items at the three-day event include whether the US and Europe can grow faster and create jobs, US foreign policy, politics of the European Union and Developments in the Middle East.
Among those due to attend are chancellor George Osborne, cabinet minister Ken Clarke and shadow chancellor Ed Balls.
They are expected to be joined by the heads of global corporations such as Google and Amazon, industrial conglomerates such as BAE Systems, as well as IMF head Christine Lagarde and the former US secretary of state, Henry Kissinger.
The Bilderberg Group says the conference's "private nature" allows participants to "take time to listen, reflect and gather insights" because they are free from "conventions of office or pre-agreed positions".
But the group's secretive nature has attracted criticism from the left and right on the political spectrum.
One protester, who gave his name only as Alex, said: "We are trying to expose a group of people who are not always working for everybody's best interests.
"The belief a lot of people have is that they do take very important decisions which influence government's policy."
Extra fencing has been erected around the venue, set in 300 acres of parkland close to the M25, and footpaths have been closed.
Ms Thornhill said: "I think it's outrageous that the local taxpayer has to pick up the tab for ostensibly a private meeting of trillionaires, probably the most wealthy people in the world.
"Hertfordshire Constabulary have suddenly got this unexpected budget strain dumped on them at literally a month's notice. It's not on."
A police spokesman said it would not disclose its costs "for operational reasons" but revealed conference organisers had agreed to make a contribution.
"[We] will also be seeking funding from other sources to help cover the costs of policing and are in discussion with the Home Office about other funding sources," a statement read.