Stoke Mandeville Hospital: Blaze ward still closed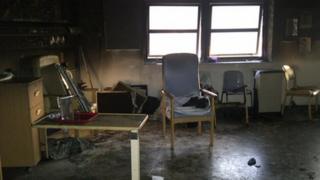 A ward affected by a fire at Stoke Mandeville Hospital in Buckinghamshire will remain closed for the "next few weeks", the hospital has said.
The fire broke out on Saturday morning in Ward 4 on the second floor of the hospital, near Aylesbury, and also affected Wards 5 and 7.
Buckinghamshire NHS said Ward 4 would stay shut while it investigated the cause and made repairs.
It said the hospital had otherwise returned to "business as usual".
More than 50 patients had to be moved as a result of the blaze, which was tackled by about 40 firefighters.
Three patients were treated for the effects of breathing in smoke and one for a minor hand injury.
Some nearby wards were affected by smoke and water damage and the hospital's A&E department had to run a reduced service.
Buckinghamshire Healthcare NHS Trust said: "We have now stepped down from major incident and have returned to business as usual.
"Staff have worked extremely hard to ensure patients were placed in alternative wards and to bring as many of the affected wards back into action as possible."
Buckinghamshire Fire and Rescue Service said an investigation was being carried out and its initial findings would be presented later.