Shefford orphanage priest John Ryan 'most brutal man'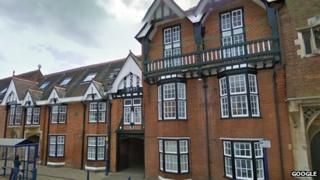 Three ex-residents of a Catholic orphanage have spoken out about their "brutal" treatment at the hands of a priest, who is at the centre of a police investigation.
The men were residents at St Francis Boys Home, in Shefford, near Bedford, in the 1950s and 1960s.
The three allege physical abuse by Father John Ryan, who died in 2008.
The Catholic Church says it "deeply regrets" any hurt caused, but stresses the "claims are not proven".
The home, which closed in 1974, was run by the Catholic Diocese of Northampton.
The three men talked to the BBC after it was revealed that Bedfordshire Police are investigating an allegation of sexual abuse against Fr Ryan.
'Raw memories'
The three were not sexually abused, but allege they were physically abused and are looking at taking legal action against the Church.
David Cox, 61, from Ipswich, who attended the home in the 1960s, said the memories of the beatings at the home "were still very raw".
"Father John Ryan was the most brutal man I've ever come across in my life. He threw kids around like they were toys. We were all punch bags.
"We were caned and punched and slapped, and you'd see blood," he said.
"The Catholic Church is in denial. The Church has to acknowledge what went on. They must stand up and say, 'yes, we were wrong, we have let you down and we are really sorry'," said Mr Cox.
Sidney Hibbitt, 64, of Biggleswade, Bedfordshire, said he "hated" his time at the orphanage, which he attended in the mid 1950s.
He said as well as regular physical abuse, some boys were also sexually assaulted.
"I was in the second bedroom along from Father Ryan's room, and the boy in the bed nearest the room would not be in his bed if I woke up in the night," he said.
'Stripped naked'
"I break down when I talk about it. It makes me feel so bad now as it did then, so many years ago," he added.
Bernie Gargan, 66, of Peterborough, who attended the home in the 1950s, said: "We were completely battered by the priests.
"You were stripped naked to be caned."
He said he thought the Church needed to "come clean" over the abuse.
Bedfordshire Police said: "We have received a complaint concerning St Francis Boys Home and are in the early stages of an investigation."
A diocesan spokesman said: "Father Ryan died several years ago, but the police are investigating the claims that are being made.
"The Catholic Church deeply regrets any physical or emotional hurt that may have been caused, but the claims are not proven, and it would be inappropriate for us to enter a discussion while the case is under investigation."
A group of former residents of the home is arranging a reunion in London on 22 June when they hope to discuss possible legal action.