George Michael 'kept in hospital' after M1 accident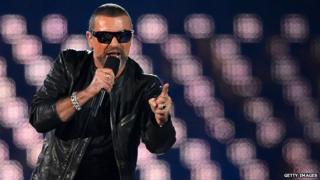 Singer George Michael is being kept in hospital for treatment after sustaining head injuries on the M1 in Hertfordshire, his spokeswoman said.
The former Wham! star, aged 49, was a passenger in a Range Rover involved in an accident on Thursday at junction 6A, near St Albans.
Michael, whose real name is Georgios Panayiotou, was airlifted to a specialist trauma centre in London.
A spokeswoman for the star said he was "making good progress".
Michael was found on the road by paramedics at the scene of the accident on Thursday afternoon.
'Bumps and bruises'
His spokeswoman said: "Following the traffic accident on Thursday, we can confirm that he is still in hospital.
"We are keen to stress it's purely as a precaution for observation.
"He did suffer a couple of bumps and bruises to the head and that's why they are keeping him in - to keep an eye on him.
"He is doing better. He is making good progress and is looking forward to getting out."
An ambulance service spokesman confirmed the patient, a man in his 40s, was "fully conscious" throughout the incident.
"The patient was on the road when paramedics arrived," said Gary Sanderson, of the East of England Ambulance Service.
"The patient required further assessments at a specialist trauma centre after he received a head injury.
"He was fully conscious throughout his treatment at the scene and flight to hospital and the injuries were deemed non life threatening."
A Hertfordshire Police spokeswoman said officers were unaware of any damage to the Range Rover and confirmed no other vehicles were involved.