Milton Keynes new homes shortage blamed for B&B figures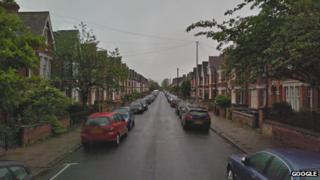 A shortage of new housing is being blamed for high numbers of homeless children being housed illegally in Milton Keynes.
The borough has the worst record for children living in B&Bs for more than six weeks in England, outside London.
They have been placed there by Conservative-led Milton Keynes Council, one of England's heaviest users of this sort of accommodation for the homeless.
The council said it was addressing the problem and that the figure would fall.
As of 1 May, it had 93 households living in B&Bs, mostly located outside the borough, according to the most recent figures
Figures compiled by the Department for Communities and Local Government also show that at the beginning of this year, 34 families with dependent children were living in these places longer than the law allows.
'Forgotten by council'
Stays of more than six weeks have been deemed "unacceptable" by the government.
One father said he felt he had been forgotten by the council.
Ali said he had been living in the Ashrose Hotel in Bedford for two months, sharing a single room with his wife and two young children.
He had no complaints about the upkeep of the hotel, but said it was hard having to share facilities with up to six other families.
"Sharing a bathroom and a kitchen is not easy," he said.
"The kitchen stays locked after 9.30.
"Ramadan is coming soon and I need somewhere to eat".
After the BBC spoke to him, the council offered to re-house him and his family.
One mother, whose identity the BBC is withholding, has been occupying a single room at the hotel with her three children since 11 March.
"I'd like to live in a normal house," she said.
"It's difficult for children to change schools."
She said they had been to three different schools in the last year.
House-building surge
Analysis of the council's spending shows it paid the owners of the Ashrose Hotel more than £369,000 during 2012.
Other establishments used heavily by the council include the Different Drummer Hotel in Stony Stratford and the Black Cat Travel Cottages in Dunstable.
The council spent at least £1.1m on bed and breakfast accommodation for the homeless in 2012, according to analysis of their published spending figures.
This was despite a surge in house building across the borough, one of England's fastest-growing areas.
According to the cabinet member for communities, Conservative councillor Peter Geary, about 1,500 new homes are being built on average each year, with 30% deemed affordable.
He said political differences had held up the search for better accommodation for the homeless.
"Fought for change'
"We have come up against a bit of a political hiatus with our colleagues," he said.
"We are a minority administration and they have been restricting the amount of properties that can be bought forward".
Opposition councillors were refusing to grant planning permission for new rented accommodation, he said.
"Petty party politics has caused real problems for very vulnerable people in Milton Keynes and we fought to try get that changed and that's what will change.
"We've got a lot more supply coming on track and we are getting our homeless figures down."
Liberal Democrat housing spokesman Chris Williams said planning decisions were not politically motivated.
He said the council's record on the use of B&B accommodation was "dismal" and "very embarrassing".
"The council is not building sufficient council houses. We're not working properly with our partners for private investment to build council houses," he said.
Labour councillor Nigel Long said it was "horrendous" that so many families were living in B&Bs.
"The reality is that the council failed to make things happen on the housing front," he said.
"It's failed despite the land being available to build the new homes."