Connors family members jailed for servitude offences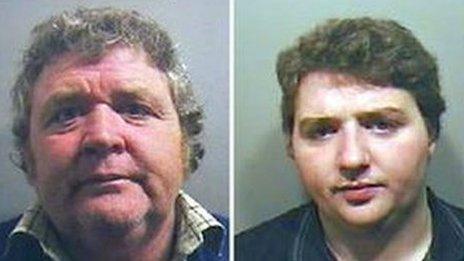 A father and son have been jailed for keeping vulnerable men captive and forcing them to work.
Tommy Connors Sr, 53, was jailed for eight years and his son Patrick, 21, for five years at Luton Crown Court.
The men from Bedfordshire were convicted last July of servitude, compulsory labour and assault charges.
A jury was discharged at a separate trial after failing to reach verdicts on other charges against both men and James Connors, 25, and Tommy Jr, 27.
The jury at Luton Crown Court failed to reach a verdict on any of the charges against them after deliberating for more than two days.
The Crown Prosecution Service said it would not be pursuing a retrial.
Passing sentence, Judge Michael Kay said Tommy Connors Sr had targeted men who were "homeless or addicted and isolated" whom he could exploit.
Men would be recruited at soup kitchens and off the street with the promise of paid work, food and lodgings.
"It was a monstrous and callous deceit" the judge said.
He said over the years, hundreds of vulnerable workers had been recruited and would have been subject to threats of violence and intimidation if they wanted to leave.
Many managed to flee once they realised they had been tricked, but the judge said a small number had been so degraded and manipulated they had not been able to summon the courage to run away.
The judge acknowledged that for Patrick Connors, keeping vulnerable workers and exploiting them had been a way of life he had been born into.
During last year's trial, the jury heard workers were held on the Green Acres site at Little Billington, near Leighton Buzzard.
Tommy Connors Sr and his son Patrick were sentenced on Tuesday for conspiring to hold a person in servitude and conspiring to require a person to perform forced or compulsory labour, offences they were found guilty of last July.
The charges involved two different workers and they were also convicted at the time of assault occasioning actual bodily harm.
Because the jury failed to agree on further charges they were not sentenced until a retrial had been held.
That trial started earlier this year with Tommy Connors Sr, his son Patrick and his two other sons, Tommy Jr and James all pleading not guilty to three charges of conspiracy to hold a person in servitude and three of conspiracy to require a person to perform forced labour.
The jury retired to consider the verdicts last week, but on Tuesday announced they were unable to reach verdicts on any of the charges against the four and the trial collapsed.
However, Tommy Connors Sr and Patrick Connors were sentenced for the offences they had been convicted of last summer.
The daughter of Tommy Connors Sr and her husband, both travellers, have also been convicted of keeping vulnerable men in servitude and requiring them to perform forced labour.
James John Connors, 34, and Josie Connors, 31, were jailed for 11 years and four years respectively at the trial last year.
James John Connors - known as "Big Jim" - was also convicted of assault occasioning actual bodily harm.
Related Internet Links
The BBC is not responsible for the content of external sites.