Milton Keynes grid road safety questioned by coroner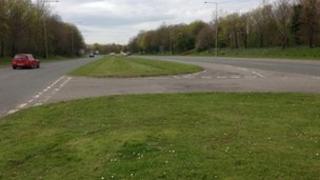 The safety of crossover junctions on grid roads in Milton Keynes is being questioned by a coroner after six deaths in ten years.
Edna Read, 83, was fatally injured in October on the H9 Groveway.
Coroner Thomas Osborne said he would ask the council to consider reviewing how drivers cross dual carriageways.
The council said it would look "very seriously" at the request. There are about 50 "priority give way junctions" in Milton Keynes.
Figures from the council show that in the past ten years there have been six fatalities, 30 serious injuries and 207 minor injuries at the crossover points or gaps in the dual carriageways.
Mr Osborne said the death of Ms Read was an accident but made a Rule 43, a facility open to coroners who feel from the evidence presented at an inquest that other deaths may occur.
Councillor John Bint said that "in general" the town's crossover junctions were safe.
"We very much regret any accident but, when you consider this is a conurbation with 200,000 people, we don't think [six fatalities in ten years] is a huge number," he said.
The council said there was already a review programme in place but some modifications to junctions had already been made.
"We respect the coroner's role hugely and we will be looking very seriously into whatever his question is," he said.
"If there is more we need to do in terms of the way we already review road safety then we will of course respond to the coroner. "