Grand Union Canal funeral farewell for Walter Harrison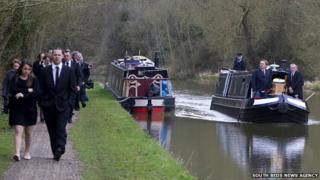 A 91-year-old man from Bedfordshire, who was born on board a barge on the Grand Union Canal, has been carried to his funeral on the same waterway.
Walter Harrison was born on the coal barge Baron in July 1921. He lived on the canal for 30 years and worked on the waterways for much of his life.
Family and friends of the pensioner, known as Wally, followed the coffin along the towpath.
"I wanted to give him one last journey," said grandson Lee Harrison.
The funeral began with a church service at St Barnabas in Linslade before the hearse was taken to the Globe Pub in Stoke Road, Leighton Buzzard.
From there the coffin was placed on the canal barge to be taken to its final resting place in Old Linslade.
Funeral directors Dillamore, which has been operating in the area for nearly a century, said it was the first time it had been requested to use the waterway as part of the proceedings.
"Many families who worked on the canal settled in Linslade when this form of transport became available," said company owner Richard Dillamore.
"We've arranged many funerals for these families, but this is the first time we've been asked to use a canal boat to transport the deceased on their last journey."
As the barge arrived with Mr Harrison's coffin on board, members of his family who accompanied it produced paddles to bring the vessel to the bank to the theme of the 1970s hit show Hawaii Five O.