Rare white lion cub appears at Hertfordshire wildlife park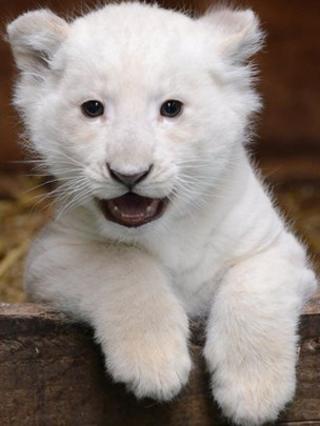 A rare white lion has made an appearance in an enclosure at a Hertfordshire wildlife park.
The female cub was born at Paradise Wildlife Park near Broxbourne to parents Kya and Moto in late January.
First-time father, Moto, was rejected by his own pride before coming to the park, the wildlife park said.
Director Lynn Whitnall said: "We are at an early stage in her development but she is feeding well and gaining weight daily. She is Kya's second cub."
The wildlife park now has a pride of four white lions but they occur very rarely in the wild.
They can be born to tawny-coloured parents when both the mother and father carry the recessive gene that causes the white fur.
"Some experts estimate this to happen as little as once every 20 to 30 years.
"They are not albinos, but are in fact leucistic and have normal coloured eyes. Leucism is a reduction in the pigmentation of the skin.
"In captivity, white lions are ambassadors for their species, helping to raise important funds for conservation projects overseas," the wildlife park said.