Bedfordshire Police apologise for Biggleswade GP notes 'arrest'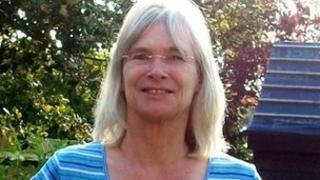 A 67-year-old woman who was handcuffed for demanding to see her medical notes has received an apology from police.
Mary Kerswell went to Biggleswade Health Centre in Bedfordshire to check for corrections following a mix-up with another patient's details.
She was unable to see the full record and staged a sit-in protest. Police were called and Mrs Kerswell was escorted out in handcuffs.
Bedfordshire Police said it could have acted "in a less intrusive manner".
Mrs Kerswell, a retired scientist, said she was telephoned by the surgery in October saying her kidney condition demanded an urgent urine test.
She told them she was perfectly healthy, but the surgery was adamant her records showed she was a heavy smoker and suffered from Alzheimer's Disease, a kidney condition and had undergone a hysterectomy and a double hip replacement.
Mrs Kerswell went to the surgery to ask for her full 43-page long medical notes, but after allegedly being told the manager was unavailable and she would have to wait she refused to leave.
Fee paid
A police community support officer then came to the surgery and asked her to leave, but she said she had already paid £10 to access the information a few days beforehand.
She was then handcuffed and escorted out of the building.
At the time, Bedfordshire Police said officers attended the practice in Saffron Road over reports of a breach of the peace and that handcuffing was standard practice.
But it has now apologised over the handling of the case.
Mrs Kerswell, who has registered with another practice, said: "I think they've been very honest about it and apologetic and more to the point bringing it to the attention of the staff concerned, so they know in future just how to react in a similar situation."
Ch Insp Mark Upex said: "I have spoken with Mrs Kerswell on two occasions and while she does not wish to make a formal complaint, she did raise some concerns about the actions taken by the officers.
"I have agreed with Mrs Kerswell that officers could have acted in a less intrusive manner and have apologised to her for this.
"The officers involved have been spoken to and advised about their future conduct. Mrs Kerswell was satisfied with this outcome."
Biggleswade Health Centre was unavailable for comment.