Luton Ibis hotel couple 'stuck in lift' may get compensation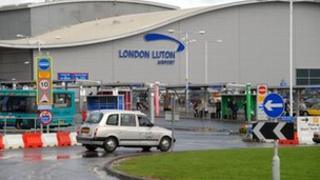 A Welsh couple who missed their flight from Luton Airport after getting stuck in a hotel lift have been told they may get compensation.
Lynn and Kye Larson were due to fly to Turkey on Monday for 11 days but were trapped in a lift for 90 minutes at the airport's Ibis hotel.
They got out at about 05:45 GMT but missed a 06:00 GMT flight to Istanbul.
A hotel spokesman said it was looking at the details before deciding on "appropriate action".
The Larsons said they were still working out the cost of the holiday but the amount would be less than £1,000.
They travelled from their home in Caernarfon on Sunday night to catch the early morning flight, but their hotel lift jammed just after they got in it at about 04:15 GMT.
Mrs Larson said she was told they could not get another flight to Istanbul until Saturday.
'Better position'
"I felt disappointed that we were missing our holiday because we had been planning it for a long time, but I was also worried about getting out of the lift," she said.
"We had also booked a few internal flights in Turkey so we have missed all of them, plus the hotels we have booked."
She said the hotel had apologised and taken responsibility for what had happened.
A spokesman for the Ibis said the general manager was liaising with the Larsons directly to assess all the details of their trip and the costs involved.
A statement read: "The hotel will then take the appropriate action in terms of reparation."
Mrs Larson said: "I am not completely happy because even if we get our money back, we've still missed out on the holiday and I think we should have some kind of goodwill gesture on top of that."
Her husband Kye said: "I'd rather be on holiday but it's a better position to be in."