Beaconsfield should 'make more of' where Enid Blyton lived for 30 years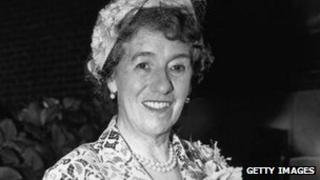 Love her or be not quite so fond of her, it cannot be denied that Enid Blyton wrote a lot of books.
She put her name to more than 600 titles which have been translated into more than 90 languages.
So you would think the Buckinghamshire town where she lived for 30 years would be shouting it from the rooftops.
Not so.
Blyton lived in a house called Green Hedges in Beaconsfield from 1938 until her death in 1968.
The Noddy character was born there and the Secret Seven, Famous Five and "adventure" series were all written there, but you would hardly know it.
The house was demolished in 1973 to make way for a new development, thoughtfully now called Blyton Close.
Other nods to her presence are a replica of her house at Bekonscot, the town's model village, and a small iron plaque opposite the town hall depicting the characters of Noddy and Big Ears.
Now the organiser of a festival celebrating the author said the Buckinghamshire town should make more of its "world famous" resident.
Kari Dorme, of The Beaconsfield Society, said: "She's incredibly important to the town.
"Beaconsfield has never really made enough of it, there are very few reminders.
"We are at the stage where people have forgotten she was here."
Lasting recognition
The society is holding a series of events to mark the 75th anniversary of Blyton moving to the town, which will run for a week in June and July, and include an exhibition on her life and works.
But Ms Dorme feels more lasting recognition is needed and is planning a commemorative plaque, although its location is yet to be decided.
"It seems ludicrous that just down the road we have the Roald Dahl museum at Great Missenden and, honestly, Enid Blyton far outsells Dahl," she said.
"And whole regions have labels, such as Catherine Cookson country."
Not everybody would agree with her, in a letter to the Bucks Free Press, in February, Anthony Mealing, of High Wycombe, said some of the tales were offensive.
He has urged people to research the subject before deciding on appropriate action.
"You need to look at both sides and if after that, you understand, and you still think it's the right thing, then do it," he said.
'Incredibly popular'
Ms Dorme said criticism that the author's stories were racist was "out of date".
"The criticism is really invalid now because in the 1990s they took out all the old fashioned language," she said.
"The most important thing about her is her legacy of encouraging thousands of children to read.
"She's a real page-turner. She turns a reluctant child into a bookworm."
Mrs Dorme, a former librarian, said Enid Blyton had been writing 60 years ago with the attitudes and thinking of her time.
"I don't think you can condemn her for that," she added.
"What she's done for children's literacy is far more important. Children still enjoy reading her and that's why we should celebrate her."
David Rudd, professor of children's literature at the University of Bolton and an expert on the author, said Enid Blyton's stories had been seen as racist since the late 1960s, with the idea gathering momentum in the 1970s and 80s.
The claims centred around the character of the golliwog, though "generally in Toyland there were more good golliwogs than bad," said Prof Rudd.
"By today's standards, looking back, she would be classed as racist," he said. "But no more than the rest of society of that time.
"What she was guilty of was being incredibly popular.
"If you look at Shakespeare and some of his characters, he could be classed as racist - just look at Shylock - but he is high literature of course."
Meanwhile, demand for her books continues.
In May, publishers Hachette are putting out re-jacketed editions of the Secret Seven series, illustrated by Tony Ross, hot on the heels of last year's re-issuing of the first five Famous Five titles, to celebrate the 70th anniversary of their first publication.
Ms Dorme said there was even talk of digital downloads.
"This will really project her into the 21st century," she said.