Aylesbury County Hall falcons lay first egg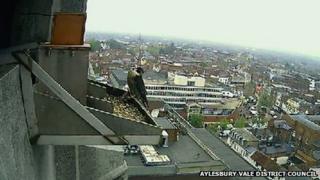 A pair of peregrine falcons nesting at a Buckinghamshire council building have laid their first egg of 2013.
The birds have set up home at a nesting platform, which was installed at County Hall, Walton Street, Aylesbury in 2008.
Web camera pictures streamed on Aylesbury Vale District Council's website were viewed 76,000 times.
The Aylesbury pair have laid only one egg and it has yet to hatch. There are currently fewer than 1,500 breeding pairs in the UK.
Peregrine falcons are one of the fastest birds in the world, achieving speeds of over 124mph (200kph).