London Luton Airport apologises for crash photo on Facebook page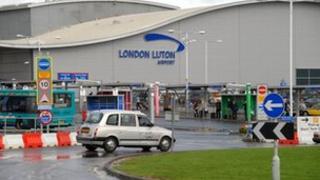 London Luton Airport has apologised "unreservedly" for putting a picture of a plane crash at another airport on its Facebook page.
The image, which appeared at 09:15 GMT on Wednesday is believed to have had a related status saying "this is what we prevent you from when it snows".
It was removed shortly after 10:30 GMT.
A spokeswoman said it was "wholly unacceptable and insensitive" and steps had been taken to "guarantee this never happens again".
"We have social media guidelines that clearly outline what is acceptable," a statement read.
"However in this instance a new, over-enthusiastic member of our support team made an honest but misguided mistake and clearly stepped over the line."
It is understood the photo related to an incident at a Chicago airport in 2005 when a Boeing 737 slid off the end of the runway and a child in a car was killed.