Bedford cat which was 'runt of the litter' turns 27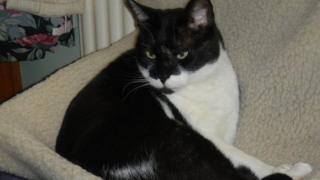 A cat from Bedford, which was the "runt of the litter" when adopted as a kitten, has just turned 27 years old.
Former landlady Ann Munday, from Wentworth Drive, acquired a "very poorly" cat she called Wadsworth, from a vet in De Parys Avenue in 1986.
With the vets' help she said she nursed him back to health and "he has gone from strength to strength".
The surgery, which moved to Acorn House in Brickhill, and still treats the cat, has verified his age.
Mrs Munday said her cat, known as Waddy, "is not as active as he was".
'Old man'
Since he was taken on by Mrs Munday, the cat, who was named after the beer of a similar name, has lived at the Horse and Jockey public house before moving to The Blacksmith's Arms, both in Ravensden.
Now in a house he leads a quieter life and "doesn't really play any more".
Mrs Munday said: "He's like a little old man really, he gets up, goes out, comes in, has his food and then goes back to sleep."
She said she has no idea how he has managed to reach such an age as he had been the "runt of the litter".
"He was very poorly and sick when we got him," she said.
"He was back and forth to the vets in the first few weeks, he was full of infection but with the help of the vets we nursed him back to health."
She said he has had health "ups and downs" over the years and the moggy currently takes pills which cost her about £45 per month but he "is still going".
Vet Gill Monsell who treats Waddy at Acorn House said he suffered from hyperthyroidism and was "certainly the oldest cat on its books at the moment".
"We minimise the amount of time he comes in as he gets stressed out having his blood pressure done, but he is very stable and doing very well," she said.
'Fussy eater'
Mrs Munday said he is "a bit of a fussy eater" but will eat cat food, although he is partial to a bit of fresh chicken or fish.
"If I get fish and chips I always get him a bit of fish - he doesn't like the chips," she said.
In January, Sarah Dixon, from East Yorkshire, claimed her cat Margaret was the oldest in the country, at nearly 25.
In 2007, a cat in Shropshire called Pussywillow, aged 26, was claimed to be the oldest in Britain, but the world record for the oldest cat ever, was set by Creme Puff who lived with her owner in Texas, USA, until her death in 2005 at the age of 38.