Milton Keynes art gallery £8,000 cheque riddle brings more visitors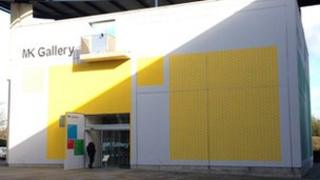 The prospect of finding a blank cheque for £8,000 in the Milton Keynes Gallery has increased visitor numbers by "a few hundred", venue staff confirmed.
Artist Tomas Georgeson claimed he hid the cheque in January, without the gallery's knowledge, to help promote the town as a "cultural destination".
He said he would collect it on 1 March if it had not been cashed.
A gallery spokeswoman said, whether the cheque was there or not, it was "thrilled" at the exposure.
Katharine Sorensen said: "We don't know whether there is a cheque there, or if it is, whether it has been found."
She added she was pleased with the extra "few hundred" visitors calculated by looking at the same period last year.
"Obviously we have very different exhibitions now, so we are not comparing like with like, but certainly in the first few days of the story breaking we had a lot more visitors than normal," she said
"I have very, very little money for paid advertising so obviously I am thrilled at the additional visibility."
'Personal risk'
Primarily a painter, Tomas Georgeson from Milton Keynes, was the winner of the Derby Open competition in 2002 and exhibited his Portrait of my Father at the National Portrait Gallery as part of the 2011 BP Portrait Award.
Announcing a cheque had been hidden he said: "I hope that the personal risk I have taken in doing this can stand as something positive in a town eager to establish itself as a cultural destination."
He said whoever discovered it could write the cheque out to themselves.
Ms Sorensen confirmed it was "certainly not [a hoax] on the part of the gallery".
"From our perspective we have to take it in good part and look at the positives of people having been to visit us with many of them taking time to look at the work on display and learn about what we have here on a regular basis," she said.
Mr Georgeson later issued a statement saying the cheque was recovered by "one of four young graduate artists who have been helping me with this intervention at the Milton Keynes Gallery".
"The cheque is now void and the project is concluded," he added.