Hertfordshire PCC 'concerned' at deputy's Hitler tweet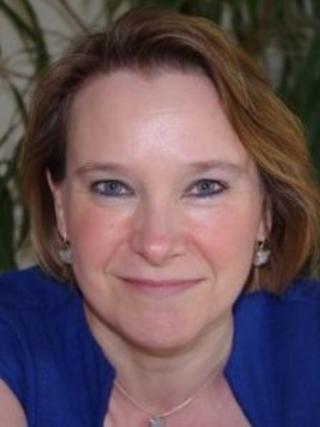 Hertfordshire's police and crime commissioner said he was "concerned" after his deputy shared a Twitter post likening socialists to Nazis.
David Lloyd said he would be speaking to Dr Rachel Frosh after she retweeted a post from another user featuring a quote from Adolf Hitler.
The post read: "Dear #Socialists, embrace your inner #Nazism."
Dr Frosh said she did not endorse the original tweet and did not consider Labour or socialists to be Nazis.
PCCs were elected in November across England and Wales to hold police forces to account.
Dr Frosh was appointed as deputy to fellow Conservative Mr Lloyd in December, and earns £20,000 a year for working a two-day week.
She is also an NHS consultant and a member of Harpenden Town Council.
'We are Socialists'
The retweeted post included a link to a picture of Adolf Hitler, captioned with a quote from him beginning: "We are Socialists...".
Stevenage Council leader Sharon Taylor, a Labour councillor, tweeted: "I'm shocked at this. Do you think it's funny/acceptable? It's not."
Dr Frosh removed the original retweet, but then posted it again, adding: "I don't agree any mainstream party is like Nazis."
She said: "I've explained... on Twitter that I retweeted someone who was highlighting a quote from Hitler showing he (Hitler) believed he was a socialist.
"They [Nazis] are so far removed from mainstream political thought that they should be thought of as completely apart and not an extreme version of any mainstream party. The terms far-left or far-right are misleading.
"I have also made it clear that I did not agree with the tweet and do not consider Labour and/or socialists associated in any way with them and I would not want people to think that."
Dr Frosh has added a disclaimer to her Twitter account, reading: "Tweets are in a personal capacity and retweets are by no means an endorsement."
Mr Lloyd said: "I will not be rushing to judgement but I am obviously concerned. I will be seeing Rachel to discuss the matter over the next couple of days.
"It is not something that I would have done. The commissioner and deputy commissioner are public and high-profile roles. We must recognise that everything we do is open for scrutiny."
Dr Frosh said: "David is, of course, right. I have already said I shouldn't have retweeted it."