'We proved Barri White and Keith Hyatt were innocent'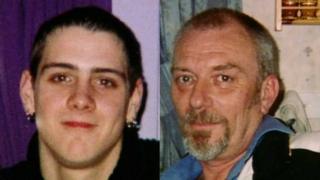 More than 12 years ago, the lives of three families were torn apart.
The body of Rachel Manning, 19, was found dumped on a Milton Keynes golf course in 2000.
In 2002, Barri White was convicted of murder and his friend Keith Hyatt of perverting the course of justice.
Both had their convictions quashed in 2007. Six years on restaurant worker Shahidul Ahmed has been found guilty of her murder.
The verdict goes some way to repairing the damage, but the emotional wounds caused by the senseless murder of Rachel, and the subsequent miscarriage of justice which followed, will probably never heal.
I first got involved in this case in 2003 when I was a young reporter on the BBC's Rough Justice programme.
Alongside the brilliant and dedicated Louise Shorter, we investigated the case for more than two years and produced a film in 2005 which would prove that Barri White and Keith Hyatt had been wrongly imprisoned for this murder.
We set about the case with an open-minded vigour that appeared to have been lacking in the initial police investigation.
Prison celebration
We knocked on hundreds of doors, chased down endless leads and, crucially, commissioned new DNA and forensic tests which would prove that it was impossible for Barri and Keith to have committed this crime.
The prosecution case depended on forensic expert Kenneth Pye.
He confidently told the jury in the first trial that it was likely Rachel's body had been transported in Keith's van.
But his assertions were based on a series of scientific assumptions which were revealed by Rough Justice to be not just untested, but completely wrong.
Barri White, serving a life sentence for a murder he did not commit, watched the broadcast of the programme from his cell, as did all of his fellow prisoners.
As the final credits rolled, the prison erupted in a crescendo of shouts, cheers and pots crashing against bars. But it would be another two-and-a-half painfully slow years before he would set foot outside prison walls.
At the Court of Appeal, Mr Pye's evidence crumbled when challenged by the work of Dr Andrew Moncrieff and Dr Peter Bull, the experts who worked for free for Rough Justice.
I heard the words "the convictions are unsafe" ring out in the courtroom and watched Barri and Keith's family break into sobs of relief.
And for me, as a journalist, there could be no greater honour - playing a part in two wrongly imprisoned men being cleared. It was then, and still remains the proudest moment of my career.
This was the 17th conviction quashed because of investigations by Rough Justice. And it would be the last.
The programme was dropped from the BBC schedules after 27 years. I mourn its passing because victims of miscarriages of justice now have fewer places to turn.
Barri was forced to undergo a retrial - a formality now that the prosecution evidence had been discredited. He was cleared.
People might have expected Barri and Keith, now completely free men, to go on to live happy and carefree lives, aided by a fat compensation cheque to set them on their path.
Well, no actually. This was the start of perhaps an even bigger fight than the one to clear their names. Both men have struggled with freedom since their release.
There is no parole and little support when your conviction is quashed. You are simply sent out the door and left to get on with it.
The conviction of Shahidul Ahmed marks a dramatic and fitting conclusion to this saga which, after the successful appeals in 2007, I feared would never come.
Often when a police force is confronted with one of its convictions being quashed, the stock response is: "We're not looking for anybody else in this matter." This translates as: "We still think they did it."
Not so Thames Valley Police. Guilty of an appalling miscarriage of justice, its officers and forensic team set about a reinvestigation with an open mind; and it came up trumps.
For that, they deserve credit - though if they expect Keith and Barri to say thank you, they could be waiting some time.
For Rachel Manning and her family, real justice has finally been delivered.
Mark Daly is the investigations correspondent for BBC Scotland and regularly reports for Panorama. Louise Shorter now works for Inside Justice, which investigates miscarriage cases.
'Life after life: Barri and Keith's story' will feature on Inside Out on BBC1 in the East at 19:30 GMT on Monday 9 September, and later on the iPlayer.