Barri White: 'Paranoia' of man wrongly jailed for murder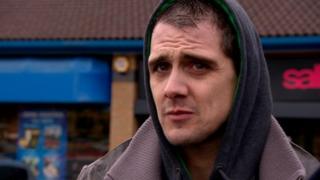 A little more than four years ago, Barri White thought all his troubles were over.
"Someone had finally listened", he said.
He had been cleared by a jury of murdering his girlfriend, 19-year-old Rachel Manning, in 2000.
Mr White walked out of Luton Crown Court a free man after six years in prison, and spent the rest of the day celebrating.
However, it did not mark an entirely fresh start for the-then 29-year-old, a victim of one of the worst miscarriages of justice in the UK.
There was still a killer on the loose, and he was not caught until a chance DNA find helped convict Shahidul Ahmed on Wednesday.
After being released, Mr White had a new fight - finding a life after spending most of his 20s behind bars..
A tattoo on his hand remembers his acquittal date - 28.12.2008 - a day followed by many other days which did not live up to expectations.
"I was a mess when I first came out of jail - drinking, doing drugs," he said.
"It's a pain that never goes away.
"No matter how drunk I get, or what drugs I've done, it was always there.
"It will always be part of my life until the day I die, and I have to deal with that."
'Easier in jail'
Living with his uncle, Mr White would shut himself away and tried to replicate prison, where he had at least felt safe from false accusations.
"I'd miss jail," said Mr White, who still lives in Milton Keynes, the town that believed he was a killer.
"I'd have my towels in my bedroom, toothpaste, toothbrush; it was my prison cell.
"Everything I needed was in that one room."
Trips out of the house were just a walk to the shops or to the pub - where he would always sit facing the door - then home.
He said: "I wouldn't go out on my own, I was always with at least two or three people.
"I was paranoid, I didn't want to be left alone in case something happened and I got accused of it."
Haunted eyes
It was made worse by the fact he felt he had a place in prison, "no worries, no bills to pay", but in the outside world he could not get a job and he received no support from the system.
Now 34, he is still jobless but tries not to be eaten up by anger, and instead is trying to turn his life around.
He jokes about his name being part of his notoriety - "it's just me and the black singer", and added, dryly, that the tattoo "13" on his back is "because you couldn't get any more unlucky".
But his dark eyes tell the real story - of regular nightmares where he is back in prison, of drug addiction, lost relationships, and the pain of the past 12-and-a-half years.
"Getting smashed with mates" ended his marriage with the mother of his three-year-old daughter.
He copes, he said, by playing football, going for long walks and spending time with his little girl.
Telling daughter
Mr White changes when he talks about her. A smile spreads across his face.
"She's helped... she's been a legend," he says.
"She's too young, but one day I will sit her down and say 'this is what Daddy got accused of'.
"She's a clever little girl, she'll understand."
And then there is Rachel.
Only now, he says, can he take his rightful place as a grieving boyfriend.
He went to her funeral, but was already a suspect in the eyes of police and Rachel's parents.
He says he still loves her and is reminded of her by "lots of little things", the drink she'd order on a night out, her favourite song, and the scent of her perfume.
He is also desperate to know what happened to her when she disappeared.
"Every day I still miss her. She is always in my mind," he said.
"But she's never coming back. I'll never see her face again, I'll never hear her voice."
"She was beautiful," he added, emphatically and unprompted.
"I went through all of that, and I'm still stood here fighting.
"I hope she would be proud of that."
"Life after life: Barri and Keith's story" will feature on Inside Out on BBC1 in the East at 19:30 GMT on Monday, and later on the iPlayer.