Rachel Manning's killer Shahidul Ahmed caught by chance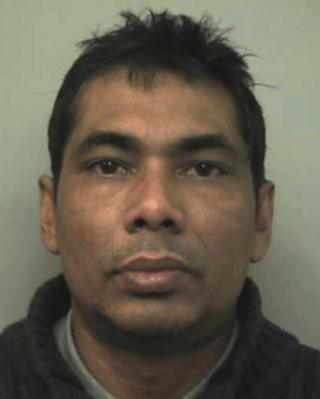 A chance match on the DNA database led police to the killer of Rachel Manning, almost a decade after her murder.
Shahidul Ahmed strangled Miss Manning while she was lost and trying to get home on a wet, bitterly cold night in Milton Keynes in December 2000.
He dragged her body through undergrowth at Woburn Golf Club before battering her face with a steering lock.
But he has now been found guilty of murder after DNA identified from a 2010 sex assault led to his conviction.
Before all that though, he appears to have simply driven away from the murder scene and happily got on with his life, never thinking he would be brought to justice.
He was 29, married, had a three-year-old child and a five-month old baby and worked at a tandoori restaurant in Buckingham.
As the years passed, he continued to live in Bletchley, right under the noses of police and just minutes from where the 19-year-old vanished.
He must have thought he had got away with it when, in 2002, Miss Manning's boyfriend Barri White was jailed for murder.
The jury believed Mr White killed the woman he loved and that his friend Keith Hyatt had perverted the course of justice by helping him dump the body.
Ahmed must have known both men were suffering for his crime, and he no doubt saw the "Barri and Keith are innocent" graffiti sprayed around Milton Keynes.
But he was a total stranger to everyone involved and had never figured in the police investigation - even when both men had their convictions quashed in 2007.
Then, almost 10 years after Miss Manning's death, Ahmed slipped up.
On 3 May, 2010, a student was heading home from a night out in Bletchley, just a few miles from where Miss Manning went missing, when a car pulled up beside her.
Like Miss Manning, she was 19 and had been drinking.
Like Miss Manning, she was walking alone in the dark and was keen to get home.
The driver beckoned her, and believing he was a taxi driver, the woman got in.
"The driver leant across and touched my breast," she later told police.
"I pushed his hand away with my arm.
"I said 'no'. I took off my seat belt and got out of the vehicle, to which he shrugged and said 'no?', like a question."
A passerby was concerned, helped her home and called police about the Vauxhall Zafira, which they saw again several times on the 30-minute walk.
That car belonged to Ahmed, now 38 and a father-of-four with a pregnant wife, who lived just 400m away from where the student was picked up.
When questioned by police, he tried to pin the incident on another man, but was convicted of sexual assault and given a community order.
As part of the inquiry, he had his DNA taken for a routine test.
In a heart-stopping moment for detectives, it matched a trace of DNA found on the steering lock used to mutilate Miss Manning 10 years earlier.
That brutal act came back to haunt Ahmed in the early hours of 6 December 2010, when police knocked at the door of his family home in Bletchley.
His wife, their four children and three-month-old-baby were all in the house when he was told through an interpreter that he was being arrested on suspicion of murder.
He claimed in a statement he had nothing to do with her death and could not explain why his DNA was found on the steering lock.
But further inquiries revealed a hair on Miss Manning's hotpants was his, and DVLA records showed he sold his car eight days after she was killed.
Ahmed went on trial in January and February this year, with the jury told the only explanation was that Ahmed had picked up Miss Manning in his car, strangled her, dumped her body and tossed the steering lock out of the window as he drove away.
The prosecution said the attack in 2010 showed he was capable of the violent assault on Miss Manning, but the jury failed to reach a verdict and six months later a new jury was called.
Once again, a court heard in exacting detail what Miss Manning had been wearing on her final night, the time she left a nightclub and the horrific injuries pathologists had counted on her lifeless body.
Ahmed's defence centred on Mr White. An anonymous witness dubbed Witness 419, who was a murderer serving life in prison, told the jury of an alleged "confession" he had made in jail.
Again, Ahmed refused to give evidence himself, denying the Manning family and all those caught up in this catastrophic case a chance to find out exactly what happened to her, and why.
Incredibly, Ahmed's retrial was the fourth in the case following the original trial of her boyfriend and friend, Mr White's retrial in 2008, and Ahmed's first trial.
Mr Hyatt commented at the time of Ahmed's first trial: "It's frustrating.
"I just want to hear him, hear his voice."
But Ahmed simply calmly listened to what was being said to him by his interpreter and did not show a flicker of emotion.
Ironically, when Mr White and Mr Hyatt stood in the dock in 2002, the jury was told it "beggared belief that a wandering maniac had been involved".
Now that "wandering maniac" - Shahidul Ahmed - has finally been brought to justice.