Stevenage Lister Surgicentre: Examiner 'confident' in care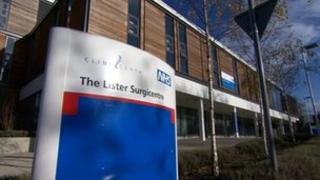 A privately-run NHS hospital where three patients died after routine surgery has received the backing of an independent medical examiner.
Dr Alan Fletcher suggested several changes for the Lister Surgicentre, Stevenage, including better education.
But he said he had confidence in how it had treated the patients who died.
The Conservative MP for Stevenage said the report showed there were problems and he said centre should be returned to NHS control.
NHS Hertfordshire, at the request of NHS Midlands and East, commissioned the report which focused on the three patients who died after elective orthopaedic surgery and another who suffered "permanent harm".
"I do not believe the care these patients received is substantially different to that provided to many, many patients in the UK in similar circumstances," Dr Fletcher said.
"I have confidence in the initial assessment prior to surgery, conduct of surgery, anaesthesia and post-operative care from the nursing perspective in all cases," he said.
'Long hours'
NHS Hertfordshire said the purpose of the report was not to "apportion blame" but to help identify where "further improvements in patient safety and clinical quality could be made".
The suggested improvements included more clinical supervision for junior staff members and a review of working hours.
Dr Fletcher noted that all the clinical entries for one of the patients who died were made by the same doctor, "morning, afternoon and evening... for five consecutive days".
He suggested better access to medical reports between the Surgicentre and Lister Hospital, which are joined.
There needed to be "clearer arrangements" for escalating concerns and medical staff needed further education.
The Surgicentre, which opened in 2011, was built and managed by Clinicenta, part of the construction giant Carillion.
The nurses and surgeons are seconded from the NHS and it treats NHS patients.
It has been criticised in several Care Quality Commission (CQC) inspections. New referrals for eye and joint treatment have been suspended by NHS Hertfordshire.
Dr Mark O'Flynn, medical director for Lister Surgicentre, said the hospital was already acting on Dr Fletcher's advice.
"Having received the report we are making sure that there are not any other lessons that we can learn," he said.
But Stevenage MP Stephen McPartland said the issues raised by Dr Fletcher backed his belief that Surgicentre should be returned to NHS control.
"It shows there are clear problems at Surgicentre," he said.
"The service is just not good enough and I firmly believe they should have their licence to provide care in the UK suspended."