Milton Keynes bridge 'whistle-blower' wins tribunal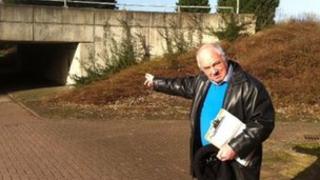 A man who said he was sacked after raising concerns about the safety of bridges in Milton Keynes has won an industrial tribunal for wrongful dismissal.
George Harlock lost his job as a bridge inspector for Mouchel, which did bridge maintenance for the council.
Believing his reports were ignored by bosses, he alerted Milton Keynes Council and was dismissed.
Mouchel claimed he was made redundant. A tribunal ruled this was not the case.
Mr Harlock, from Woolstone, said he joined Mouchel Business Services in mid-2008 and by the autumn he was finding "a lot of safety defects" including in "many cases", crash barriers not properly secured to the bridges.
He said he first verbally alerted his management in 2009 and when no action was taken, he put together a report for "all four levels of management", detailing what he thought was wrong and the remedy.
"The reality was a lot more work needed to be done and I thought it was our professional duty to alert the client to that," he said.
"Every opportunity"
In April 2010, after giving Mouchel "every opportunity to respond", he started to tell people externally and sent the report to the council. He was dismissed in April 2011.
At a seven-day hearing at Bedford Employment Tribunals last October, Mr Harlock claimed automatic unfair dismissal for whistle-blowing for which the hearing found in his favour.
In a judgement received last week, the tribunal also ruled the dismissal was unfair because it was not a real redundancy and proper consultation procedures were not followed.
The judge also agreed that Mr Harlock had suffered stress and mental illness from his concerns being ignored.
Mr Harlock said he was "very relieved" to have won but it had had a "negative" effect on his health and he had been "suicidal on occasions".
"I haven't got a livelihood at the moment.
"I have been unemployed for almost two years now and the periods of stress and depression have carried on. It has been enormously stressful," he said.
A further hearing will decide compensation as Mr Harlock is "not interested" in being reinstated.
Mouchel has declined to comment.