First bespoke parkour gym opens in Milton Keynes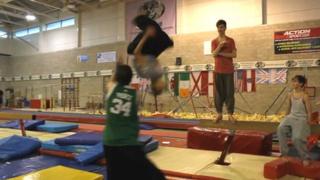 "Free runners" in Buckinghamshire have welcomed what is thought to be the UK's first purpose-built parkour gym.
The Paramount Parkour Academy opened in the Kingston Gymnastics Centre in Milton Keynes on Saturday.
It includes permanently sited bespoke equipment and obstacles for free runners including self-standing walls, vaults, wall blocks and railings.
Co-founder Allan Voo said: "Everything you would find outside has been recreated."
Parkour athletes - also known as free runners - cross urban landscapes by vaulting, leaping and climbing, using the skills of strength, balance, co-ordination and speed.
The Paramount Parkour Academy was set up a year ago after MK Parkour founder Ruel DaCosta brought Mr Voo on board to take the company further.
The academy currently has more than 130 members from seven years upwards.
'Bespoke equipment'
Mr Voo explained that previously, they had hired gym and community halls for their classes, where they had to use equipment already there.
"We decided to try and find somewhere permanent as you are limited in what you can do on normal gymnastic equipment," he said.
"Now we have our own premises we can build equipment specifically for parkour."
He said the new centre, which has cost up to £5,000 to build, would mean they could not only train more, but it would also be a lot safer.
"Outside [parkour] is quite dangerous when it's wet and greasy and in England it's moist for at least half the year," he said.
"Being inside means we can train pretty much every day now.
"We can also make the equipment softer inside, to make it safer for beginners, so you can build up to doing it outside."
Mr Voo said that the classes in the new centre catered for any ability and you did not have to have a gymnastic background to join in.
"You just have to be physically fit with no history of joint issues, any one who can move really," he said.