Luton town centre shooting was 'not random'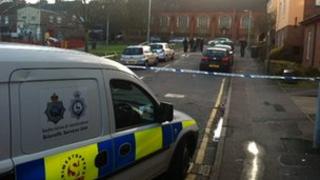 A shooting in Luton town centre, in which a woman was injured, was not a "random" event, police have said.
The victim, who is in her mid 30s, was injured at about 14:00 GMT at the junction of Russell Street and Wellington Street.
She was taken to hospital with shrapnel embedded in her hand and has since been released.
Police believe shots were fired after an argument between the victim's partner and two other men.
Both roads were still closed on Thursday morning for forensic examination.
Police from the Bedfordshire, Cambridgeshire and Hertfordshire Major Crime Team said the victim was in a car when she was injured after her partner got involved in an argument with two men on the street.
The victim and her partner are believed to have driven off as the shots were fired at their vehicle.
Two men were seen running from the scene towards Stanley Street and are described as black, with one wearing black sunglasses and both of them wearing hats.
Calling for witnesses, Det Insp Ruth Dodsworth, said: "We do not believe this was a random shooting and we know there were a number of people in the area that we still need to trace."