Sir Stanley Matthews wore Hitchin Museum's mystery boots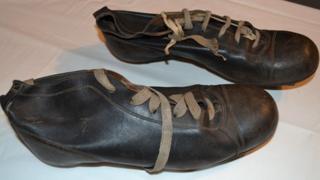 The mystery owner of a pair of football boots in a Hertfordshire museum archive has been revealed as England footballer Sir Stanley Matthews.
The boots had been at Hitchin Museum since the 1980s when it inherited items from the town's former football museum.
Their origin was unknown until staff, preparing the archives for a move to a new building, unearthed paperwork and photographs that verified the owner.
Curator David Hodges said: "Everything matched up perfectly."
Sir Stanley Matthews was the first professional footballer to be knighted and his career spanned 33 years.
When he retired in 1965, aged 50, he had made more than 700 League appearances for Stoke City and Blackpool and he was also capped for England 54 times.
The size seven leather boots from the 1950s are part of the football collection, which moved to the town's museum when it outgrew its home at Hitchin Town Football Club.
Items also include an 1889 Stoke City silk football cap, a Crystal Palace Football Club tankard from 1873 and the neck brace worn by Manchester City's Bert Trautmann, who was injured during the 1956 FA Cup Final against Birmingham and only discovered afterwards that he had broken his neck.
Staff found the information leading to the boots' identification while sorting, cleaning and researching all the items, ahead of the move to a new £4.2m North Hertfordshire Museum.
Curator David Hodges revealed that, although staff knew the boots were there, they never knew who they belonged to.
"We were looking through boxes of paper archives which talked of them and we wondered if they were the same ones," he said.
"Then we unearthed some photographs and they were exactly the same."
He said pictures of the boots, including one with the football museum's creator Vic Wayling, went perfectly with handwritten catalogues and notes.
'Matched up'
Mr Hodges did further research on the internet and made calls to verify the owner and said the museum is "certain" they belonged to Sir Stanley.
"Everything matched up perfectly, it was like a jigsaw, putting together written material, photographs and people's memories and slowly matching things up," he said.
Mr Hodges said what was still uncertain was how the boots came to be in Hitchin, but it is thought they were given to Mr Wayling, the Hitchin Town FC director, on his travels around the country to collect items.
"Maybe he went to Stoke and got them from there," he said.
The museum is unable to comment on how much the boots might be worth but said everything in its collection was "insured appropriately".
However, boots worn by Sir Stanley in the 1953 FA Cup final, where he helped Blackpool to a 4-3 victory over Bolton Wanderers, were sold at auction for £38,400 in February 2010.
The boots will go on display at the new museum when it opens on the site of the old Hitchin Town Hall in 2014.