Stoke Mandeville discharges dementia patient in early hours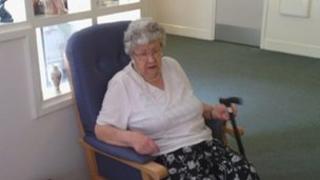 A hospital in Buckinghamshire has apologised after discharging an 85-year-old woman with dementia in the early hours in her hospital gown.
Phyllis Collins was sent from Stoke Mandeville hospital to her home in Aylesbury by taxi at 02:00 GMT on 12 January without her family's knowledge.
Her daughter Julie Smith said the way her mother was treated was "appalling".
The hospital said it was "not good care" and they had started an investigation.
Ms Smith said her mother had been taken to the hospital with breathing problems and had been discharged by hospital staff after treatment.
'Not good care'
"I just think it's appalling really that they can discharge an 85-year-old lady with dementia into a taxi... anything could have happened to her," she said.
"There must have been somebody around that had seen this old lady just wandering about in a gown and walk out of the main entrance.
"Somebody's got to be held responsible."
Chief nurse and director of patient standards, Lynne Swiatczak said: "It's not good care. It's not the care that we expect for our patients.
"Patients are discharged to home in the middle of the night because it's appropriate.
"They have carers at home, it's the best circumstances and where they need to be.
"On this occasion it wasn't the best solution for this lady and we failed her."
A spokesperson said it would speak to all staff involved to get a full picture of what happened.